AAPI Heritage Month Promotes Individuality and Community
May is Asian American and Pacific Islander (AAPI) Heritage Month. During May, the rich and diverse cultures of people from an AAPI background were discussed and celebrated.
The term "AAPI" encompasses a wide swath of many cultures from many geographic regions. However, they are often grouped—for better or worse.
Most of the world's population falls in this category. Yet, in the United States, persons who identify as AAPI are a minority.
There are nearly 25 million Asian-Americans in the United States-- people who trace their roots to East Asia, South Asia, and Southeast Asia. The diverse "AAPI community" also includes persons with familial roots in Melanesia, Micronesia, and Polynesia. Asian-Americans, according to research by the Pew Research Center, are the fastest-growing ethnic group, making up about seven percent of the total U.S. population.
Georgia Tech Recognizes AAPI Heritage Month
The collective and individual experiences of the AAPI community were discussed during a recent "community conversation" with Asian students, faculty, and staff who are members of the Georgia Tech community. The "Understanding Asian and Asian American Experiences and Perspectives: An AAPI Heritage Month Town Hall" was hosted by Institute Diversity, Equity, and Inclusion.
Said event host Luoluo Hong, GT's Vice President for Student Engagement and Well-Being, "The AAPI community represents at least 50 different ethnic communities who speak probably over 100 languages. I think this was important to acknowledge the voices that we heard today, but I also want to acknowledge that there were voices that were not at the table today. So, this was not a holistic experience-- not all narratives from our whole complex, rich AAPI community were represented today. It will probably be impossible to do that."
It is also impossible for this article to give a panoptic view of the AAPI experience here at GTRI.
What follows is a brief Q&A from a small selection of members of the GTRI community.
Q&A
 Phu Le, Corporate Information Systems Security Manager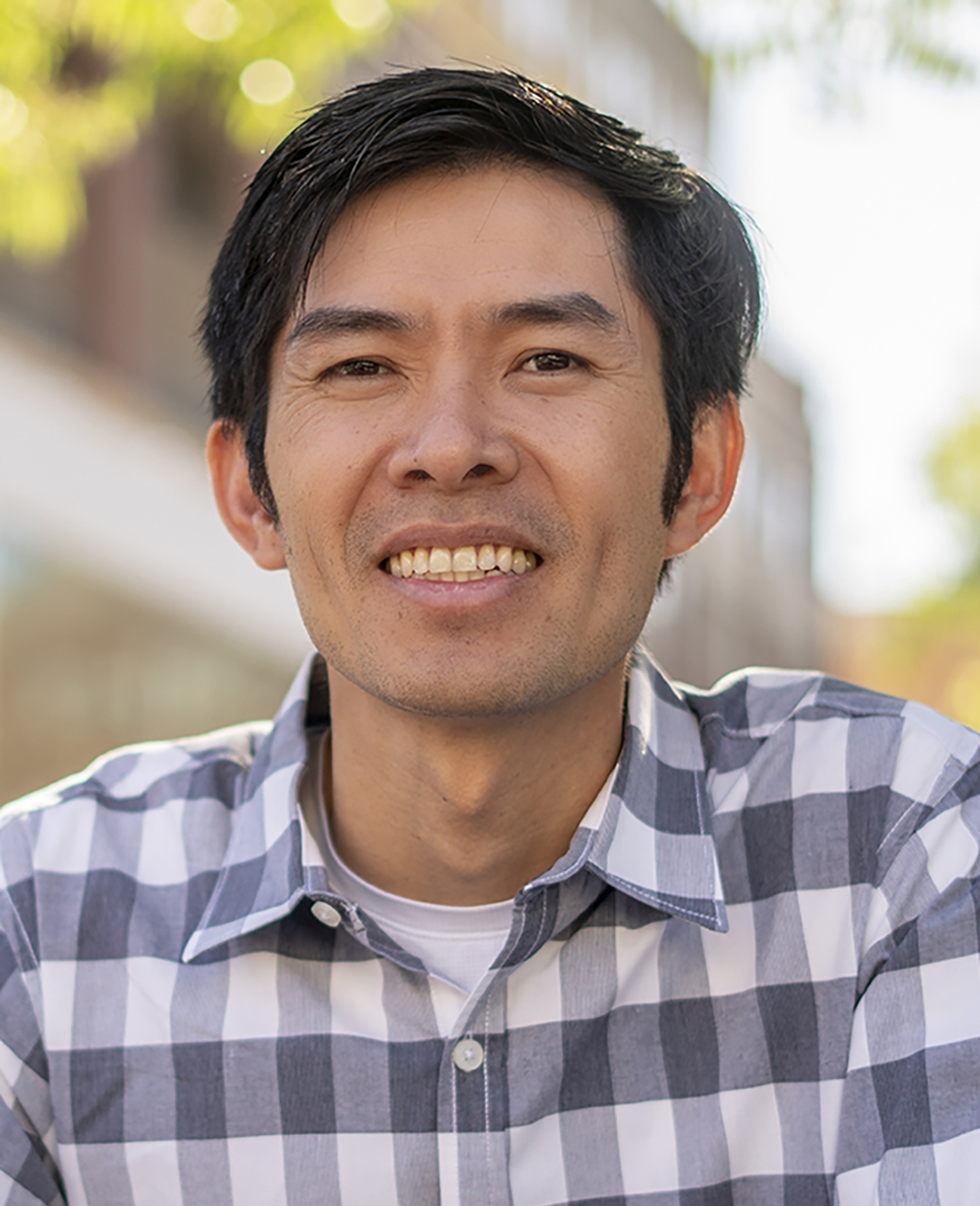 Since joining GTRI in 2012, Corporate Information Systems Security Manager Phu Le has quietly led an always-growing department.
 "A joke that I always tell people is how I am always a hiring manager here at GTRI," he said during a Feb. 2021 YouTube video on "What's Great About GTRI."
Q: What are some particularly important or interesting projects you are currently working on?
A: I am working with multiple government agencies and sponsors along with GTRI leadership and Project Directors to secure and accredit systems and networks that connect to Government secure networks in support of GTRI contracts.
Q: What specific things do you like about the GTRI work environment and its people?
A: GTRI researchers are the smartest people in the world in their fields. As they challenge themselves to research for the next better things, I challenge myself to provide the best tools and network infrastructures to support their research.
Q: Outside of GTRI, are you involved with any groups or activities that promote your culture?
A: I am not as involved in the Vietnamese community activities as I used to be, but I still consult and advise for charity or cultural events when needed. I am more involved in the Vietnamese Buddhist community. I am especially interested in Vietnamese Buddhist youth activities, where I help to mentor the next generation.
Raj Vuchatu, Chief Information Officer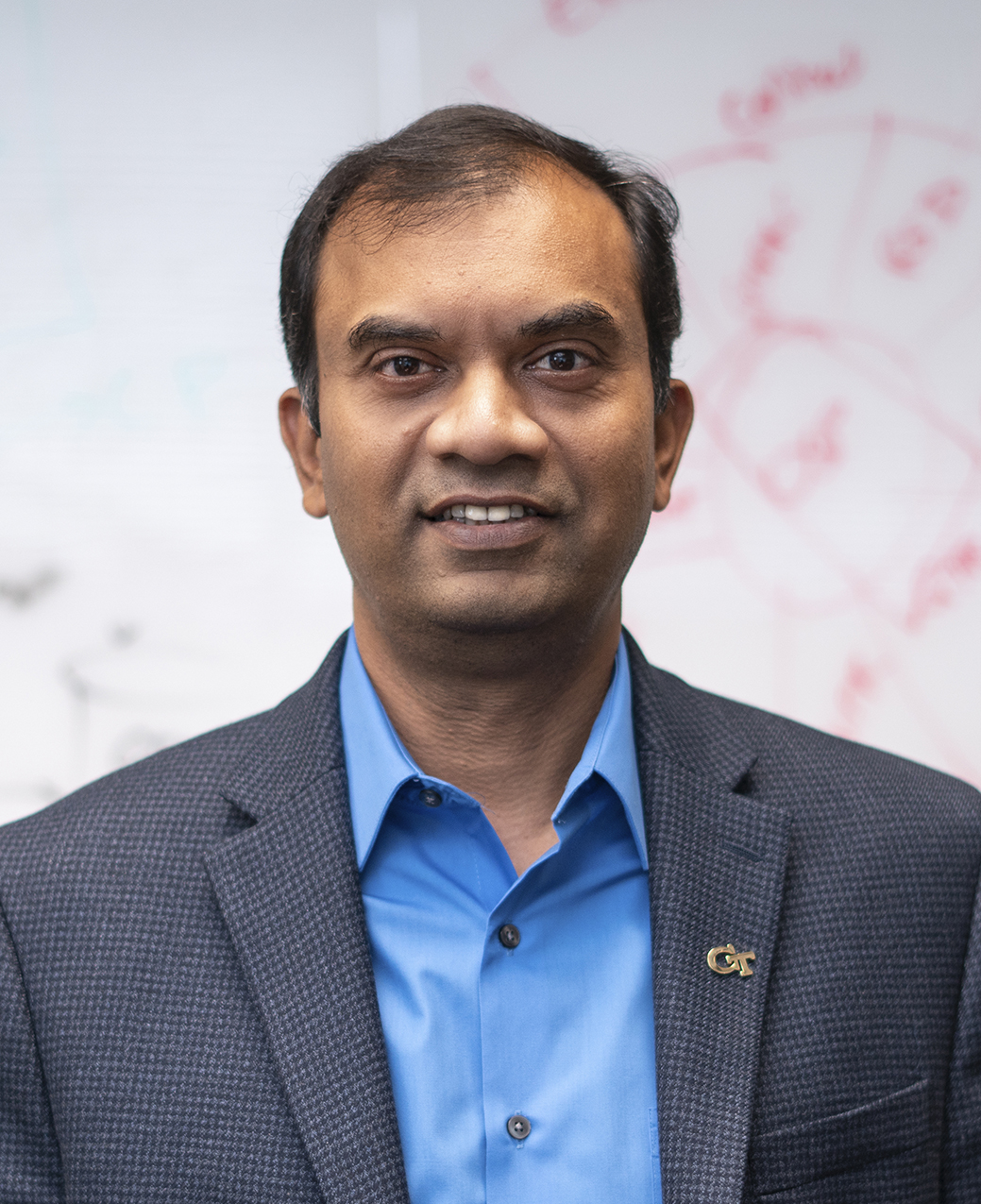 As the Chief Information Officer (CIO) at GTRI, Raj Vuchatu provides vision and leadership for Information Technology (IT) strategy and implementation. He oversees all aspects of information systems, enterprise systems, and secure and special secure computing. Raj leads and executes a shared IT strategy focused on achieving GTRI's research goals. He recently presented those strategies and goals during the first of his "Coffee With Raj & Team" events at GTRI Headquarters.
Q: What are some particularly important or interesting projects you are currently working on?
A: IT@GTRI is currently focused on seven key strategic goals:
Digitize all our business processes.

Enhance secure computing and connectivity.

Improve the effectiveness of our IT services & systems.

Establish a comprehensive enterprise cybersecurity program (unclassified).

Increase access and capabilities of high-performance computing (HPC) services.

Increase economies of scale in IT investments.

Support data-driven organization and operations.
To effectively train our users on the IT systems and services we roll out, we have started an "IT Training Made Easy" series. As part of this, we are developing and rolling out training for many systems and services:
We are working on standing up an enterprise High-Performance Computing (HPC) services.

In the past year, we got approval to stand up an enterprise WAN (eWAN) network. We are expanding it to multiple locations across the U.S. now.

We want to enable everyone in the organization to make informed decisions based on data and are building an enterprise data architecture to support this vision.
We always want to hear feedback from our user base, so we can improve and offer new services. We are reaching out to meet our user base. "Coffee with Raj & Team" is an interactive opportunity for our users to share their valuable feedback, ideas, and needs with IT leadership.
Q: What specific things do you like about the GTRI work environment and its people?
A: The best thing about GTRI is our people. They bring the innovative and entrepreneurial spirit that makes GTRI a great place to work. People at GTRI are passionate about making a difference, be it in national security or enabling research, or developing future technology leaders. For our researchers, GTRI provides the platform to use engineering skills to solve the toughest challenges we are facing.
Q: Outside of GTRI, are you involved with any groups or activities that promote your culture?
A: I am the executive director of the Atlanta chapter of Vibha. Vibha's vision is 'to ensure that every underprivileged child attains their right to education, health, and opportunity.' Through Vibha, we raise funds to support the mission and fund various education projects in India. One of the very popular fundraising events is the annual cricket tournament. This event not only raises funds for the cause, but it helps keep the most popular sport in India, cricket, alive here in the U.S. and passes it to the next generation. My family and I also attend and volunteer at Chinmaya Mission Atlanta. It is a Sunday school that promotes Indian and Hindu culture and teachings. They also teach and promote our native language, Telugu.
Benjamin Yang, Ph.D., Senior Research Engineer and branch head of the Microelectronic Systems Branch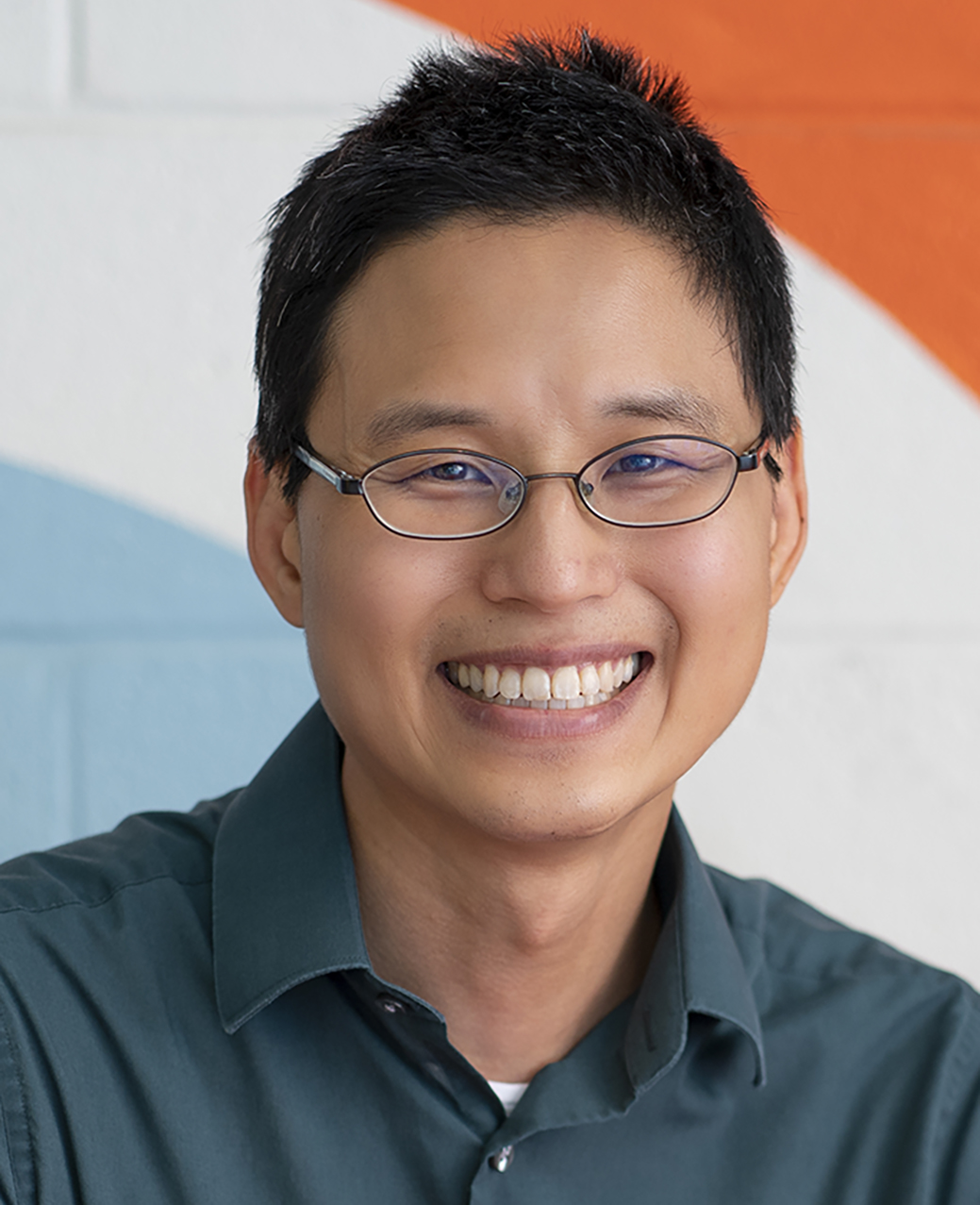 Benjamin Yang, Ph.D.'s work centers on building radio frequency, photonic, and digital integrated circuit development capability for national security applications. "I have three quests," says Yang, "1) strengthen integrated circuit design as a core competency at GTRI; 2) get a photonic integrated circuit into space; 3) do right by people.
What are some particularly important or interesting projects you are currently working on?
I'm proud to be working with a team of 30+ people on an Office of the Undersecretary of Defense, Research and Engineering program aiming to co-design radio frequency, photonic, and digital functionality into a single integrated circuit. The program is ambitiously going from simulation to a full subsystem prototype in a short amount of time. The interdisciplinary nature of the work requires a broad set of technical perspectives, which means that establishing trust and rapport is especially critical. I'm very excited to lead the program due to the multi-faceted nature of the inherent challenges.
I've also been fortunate to receive invitations to advise and organize the implementation of the HIVES Early Career Independent Research and Development (IRAD) program. As a HIVES alum, I owe some early traction in my career to this program and am grateful for the opportunity to give back. The program's emphasis on early-career researchers and openness to novel ideas makes HIVES a unique component of the GTRI IRAD portfolio. I hope my participation will result in broader outreach of the program, further strengthening GTRI with its academic (resident instruction) counterparts, and enhancing the HIVES program's ability to accelerate early career researchers' acquisition of skills for success.
Teaching and learning opportunities have also become a significant source of purpose for me. I have been actively teaching courses in the School of Electrical and Computer Engineering since 2016 and enjoy the visceral impact of teaching compared to the relatively abstract impacts of research. Seeing some of my students embark on careers that eclipse my accomplishments is hugely rewarding to me. I also value my participation in the GTRI Sparking Technology INnovation and Growth (STING) program, where GTRI faculty and staff receive hands-on training in the discipline of customer discovery. These activities touch on my belief that much of an engineer's potential can be unlocked by refining the non-technical aspects of the craft of research execution.
What are some specific things you like about the GTRI work environment and its people?
One reason I feel the GTRI work environment is a great place to grow is that one can shoulder multiple responsibilities and build a diverse skill set. Compared to other organizations, individuals are more cross-functional at GTRI. For example, technical researchers are expected to manage finances, managers can remain connected to research execution, and everyone participates in business development.
This strength, however, also comes with hazards. The "do-everything rock star" expectation can hinder goals in diversity and inclusion. Many people thrive with more specialization and only a subset of our workforce has the option in work and in life to pursue the cultural definition of the ideal GTRI researcher. I believe GTRI is grappling with this concept as its workforce evolves and I remain optimistic that we will reach a place where everyone can contribute and have a thriving career here.
Outside of GTRI, are you involved with any groups or activities that promote your culture?
I would like to send a shout-out to the GTRI IDENTIFY@GTRI Employee Resource Group (ERG). Sheila Isbell has done an amazing job recruiting participants and leading by example. There are numerous initiatives being pushed forward in a grassroots fashion and collectively they are making GTRI a better place. The supportive environment there has helped me grapple with my identity as a first-generation Taiwanese-American immigrant. Recently, I've been reflecting on the nuances of Asian Americans and Pacific Islanders working in national security, which involves its own set of interesting questions and challenges associated with modern history and the current geopolitical environment. I welcome conversations on this topic and look forward to learning from the experiences and perspectives of others.
IDENTIFY@GTRI ERG Promotes Individuality and Inclusion
We join Yang in voicing appreciation for IDENTIFY@GTRI. The ERG both fosters community and celebrates differences.
Catherine Wong, Utilities Analyst, SSD
The Chair of IDENTIFY's Community Engagement Subcommittee, Catherine Wong, poetically spoke of the impact the IDENTIFY ERG has on her:
IDENTIFY@GTRI has been crucial to my being at GTRI
Since joining, I have found myself at home,
amongst the voices of understanding,
skin ranging from human to humanity
opening me up to different perspectives,
experiences like and unlike my own
When a recent situation at work
pushed me to the brink of quitting,
it was a person of color who reminded me
that we must remain in our own power
Do not let it be taken away
Had it not been for the minority
who became the majority of my support
I would have left long ago,
or been left feeling alone
Establish this as a new standard -
surround yourself with people who
recognize, sympathize, and empathize
Heartwork expands with each heartbeat
We do not have to accept less than
respect, compassion, and communication
Without it, we cannot synthesize
the change that needs to occur
"We need to grow communities like this," she added. "That is how we have better workplaces."
Writer: Christopher Weems
Photos: Christopher J. Moore, Sean McNeil


The Georgia Tech Research Institute (GTRI) is the nonprofit, applied research division of the Georgia Institute of Technology (Georgia Tech). Founded in 1934 as the Engineering Experiment Station, GTRI has grown to more than 2,800 employees supporting eight laboratories in over 20 locations around the country and performing more than $700 million of problem-solving research annually for government and industry. GTRI's renowned researchers combine science, engineering, economics, policy, and technical expertise to solve complex problems for the U.S. federal government, state, and industry.