Celebrating Inclusive Excellence: Gayatri Shah's Experience of Never Giving Up
Gayatri Shah, a senior research engineer at Georgia Tech Research Institute's (GTRI) Project Management Support Office (PMSO), is a proven expert in the complex fields of software engineering, system engineering, software configuration, and project management. She is recognized for contributions in the fields of electronic warfare (EW) and large avionics.
Shah makes a great impact on the projects she handles and the people she works alongside.
Shah helped develop innovative approaches and contributed to multiple process improvement initiatives across multiple GTRI divisions.
The obstacles and challenges in her work and personal life have culminated not only in her passion for her career but achievements to this day. Shah, a soft-spoken and strong-willed woman, tells her story of how her resilience has led to her success.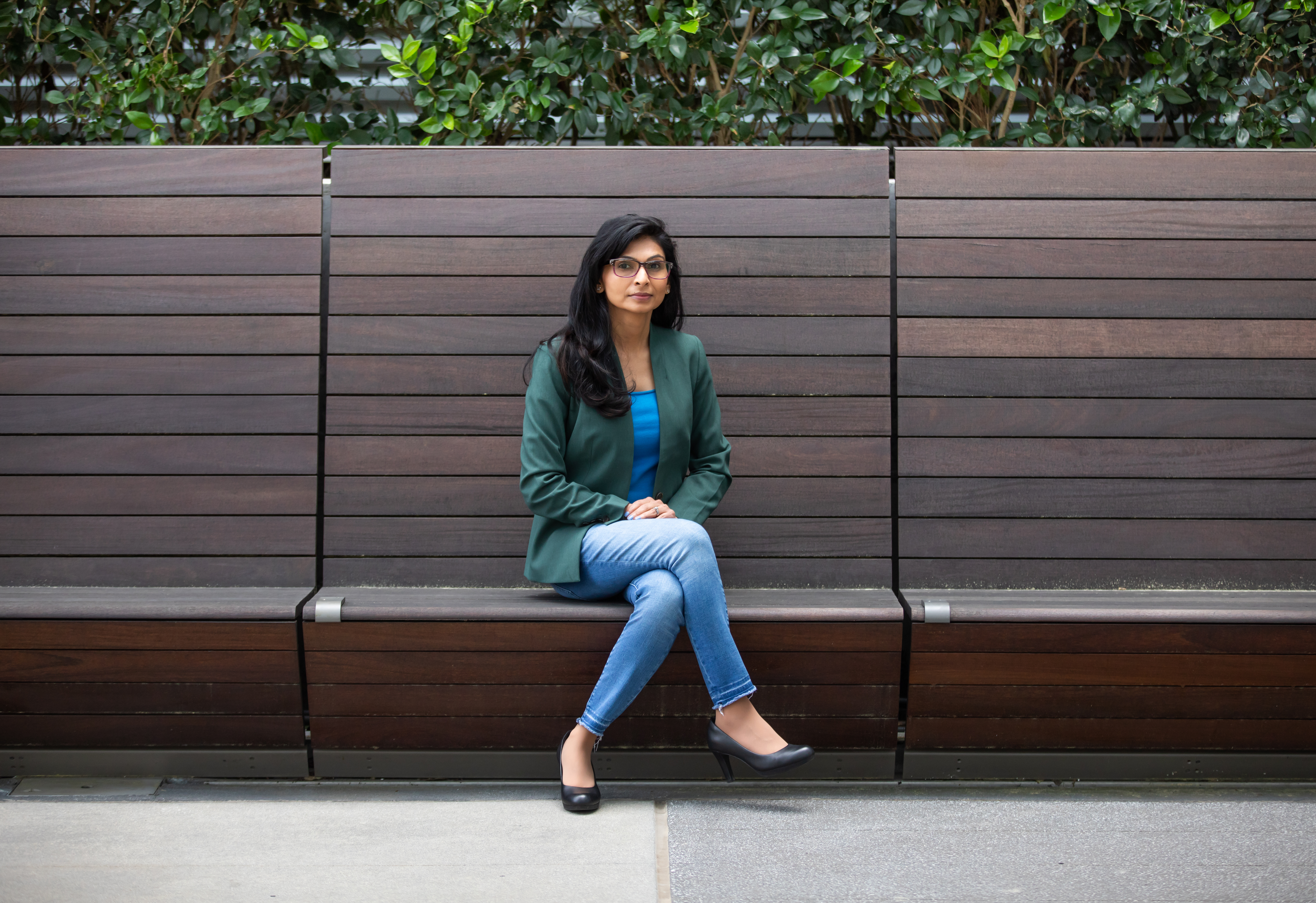 Discovering her Passion
Shah's journey began over 20 years ago when she decided to travel from India to attend the Georgia Institute of Technology (Georgia Tech) for her undergraduate studies. It was quite a change from being in a tight-knit family to joining a big college and being one in a sea of students. In addition to adapting to a different country and undertaking a rigorous curriculum in a second language, she also, like many college students, felt unsure about what she wanted to major in.
"All I knew is that I loved math and wanted to make a difference," Shah said.
After taking an entry-level computer science course, Shah realized her skills and interests matched the program. Georgia Tech students are known to go to great lengths to be successful in their classes. For Shah, that meant spending hours, and even some nights, at Georgia Tech's College of Computing lab.
"It was a unique experience that shaped who I am today and made some lifelong friends," she added. 
Georgia Tech's computer science curriculum was challenging when Shah was in college, and it's currently one of the highest-ranking in the country, according to U.S. News & World Report. Shah's experiences at Georgia Tech gave her advanced technical skills and understanding of innovative software development. It opened the door to a completely new world for her. Computer science was a venture into an unknown territory and limitless possibilities.
Path to Success
During her last semester at Georgia Tech, Shah received a great opportunity to work for the U.S. Navy base in Point Mugu, California. She was inspired to be creative and flex her technical muscles while working on several key initiatives like the Joint Mission Planning System (JMPS), a common solution for mission planning for the U.S. Navy.
She continued making an impact at the U.S. Air Force with her next career move. Her passion and expertise with F-15 JMPS, which she gained during her time at the U.S. Navy, propelled her to be the project lead working on JMPS when she joined the U.S. Air Force.
Shah demonstrated her enthusiasm for taking on new challenges by accepting projects in the fields of electronic warfare, large aircraft avionics (F-15, C5, E2C); intelligence, surveillance, and reconnaissance (ISR); ISR Distributed Common Ground System (DCGS), and JMPS. Shah completed her master's in software engineering from Mercer University while working for the U.S Air Force and was invited to speak for the Association of Old Crows (AOC) at the Dixie Crows Symposium.
Shah enjoyed solving problems with her team made up of young minds from various backgrounds.
Overcoming Roadblocks
GTRI has a strong relationship with the Department of Defense (DoD) and strives to serve national security. Shah's previous experience in the military provided a smooth transition to a career at GTRI. However, the road to where she is now was not always smooth and seamless.
After joining GTRI, Shah had some experiences that made her question her decision. For someone who has always treated others with compassion, these were hard to come to terms with. Shah realized that as a minority female in a science, technology, engineering, and mathematics (STEM) field, she was often subject to discrimination and inequities that most were privileged to avoid and received little support or guidance on how to navigate the workspace. At times, she thought about quitting her job altogether.
Despite this, Shah did not quit.
One event helped strengthen her resolve. Shah's sister, who was studying to be a neurosurgeon, was in her second year of residency and was facing a similar form of discrimination. She, too, felt like quitting the residency.
"It's hard to put it in words; we have a special bond," Shah said. "I told her, 'Never give up — or quit because of someone.'"
Later, Shah took her own advice and decided not to quit her job but overcome the challenges with perseverance and steadfastness. Eventually, she saw the troubling situation at her job resolved. Shah strongly believes that receiving equal treatment should not be something that needs to be demanded.
Hard work, integrity, and persistence, Shah realized, helped her conquer biases and prove herself an asset in even the most male-dominated work environments.
"You have to be yourself, never give up, and stand up for yourself," she said.
Ultimately, Shah recognized her unique challenges have helped mold her into a stronger person, both inside and outside the workplace. She hopes to help pave the way for others minority voices who wish to navigate similar career paths.
"I know things are changing," Shah said, "and it will be different for the next generation — especially for women in engineering."
Continued Growth
Shah has been at GTRI for six years now and has worked in the Aerospace, Transportation, and Advanced Systems (ATAS) and Electronic Systems (ELSYS) Laboratories. Now within PMSO, she manages the direct support team in her department, handling every stage of externally sponsored projects, as well as helping with proposals and cost estimates.
"Gayatri brings the resilience and determination she developed throughout her career in the DoD Industry to all her projects," said Janaki Tambe, the interim PMSO director. "In PMSO, we strive to address a wide range of project management needs, and Gayatri's background helps adds to our diversity of skills and thought when it comes to understanding our customers."
Shah is a valuable member of the GTRI community, and her work has received recognition multiple times. At GTRI, she won four research awards and two organizational awards for excellent collaboration.
Shah helped create the Fleet Level Integrated Analysis Tool (FLINT), a desktop application that helps the Navy make strategic decisions, and developed a custom target simulation software that could be expanded to simulate multiple sensors from a single truth source. Her team demonstrated the combined systems for senior Navy leadership.
One of her recent projects involved developing course material for Air Force training. She led the development of two advanced engineering and data science courses, which will teach trainees about advanced aircraft purchased from the U.S. by our Air Force partners.
Throughout her GTRI tenure, she has supported multiple software engineering efforts, demonstrating her expertise, and provided significant technical contributions through the delivery of 15 key internal products, three authored research reports, and two Independent Research and Development (IRAD) projects.
"Every project is different and challenging," Shah said. "That is what I like about GTRI because you are learning new skills and expanding your knowledge."
Shah's new role in the PMSO allows her to exercise both her engineering background and interest in project management. Here, she feels valued as an individual, and likes that leadership supports her career growth in the direction that is best for her. 
"Gayatri combines a natural ability to relate to each person with a laser focus on the task to bring out the best of each person's natural talents," said Marshall Bronston, a GTRI principal research engineer who has worked with Shah.
Making an Impact
"My goal is to pay it forward by mentoring women in STEM programs, leading by example, and making a difference," Shah said.
Her experiences have empowered her to mentor others and help young women find jobs in STEM. She participates in various professional organizations, including the Society of Women Engineers, STEM Atlanta Women, and the Institute for Electrical and Electronics Engineers (IEEE). Shah volunteers in her free time to assist with recent graduates' mentorship programs, new student scholarship programs, and other events.
At GTRI, Shah relies on strong and supportive mentors who have not only helped her achieve professional success but view her as a person with a family and a dream. She represents GTRI in career fairs and professional conferences and remains involved in Georgia Tech's alumni community.
Shah believes there are no limits to what women can accomplish.
"Dream as high as the sky because what you can achieve is only limited by what you can dream!" she said.
Shah's story of success is an inspiration to what women can achieve despite roadblocks through extraordinary perseverance.

Writer: Kaitlyn Lewis
Photographer: Branden Camp