Curtis Free Awarded with Billiee Pendleton-Parker Award for Outstanding Allyship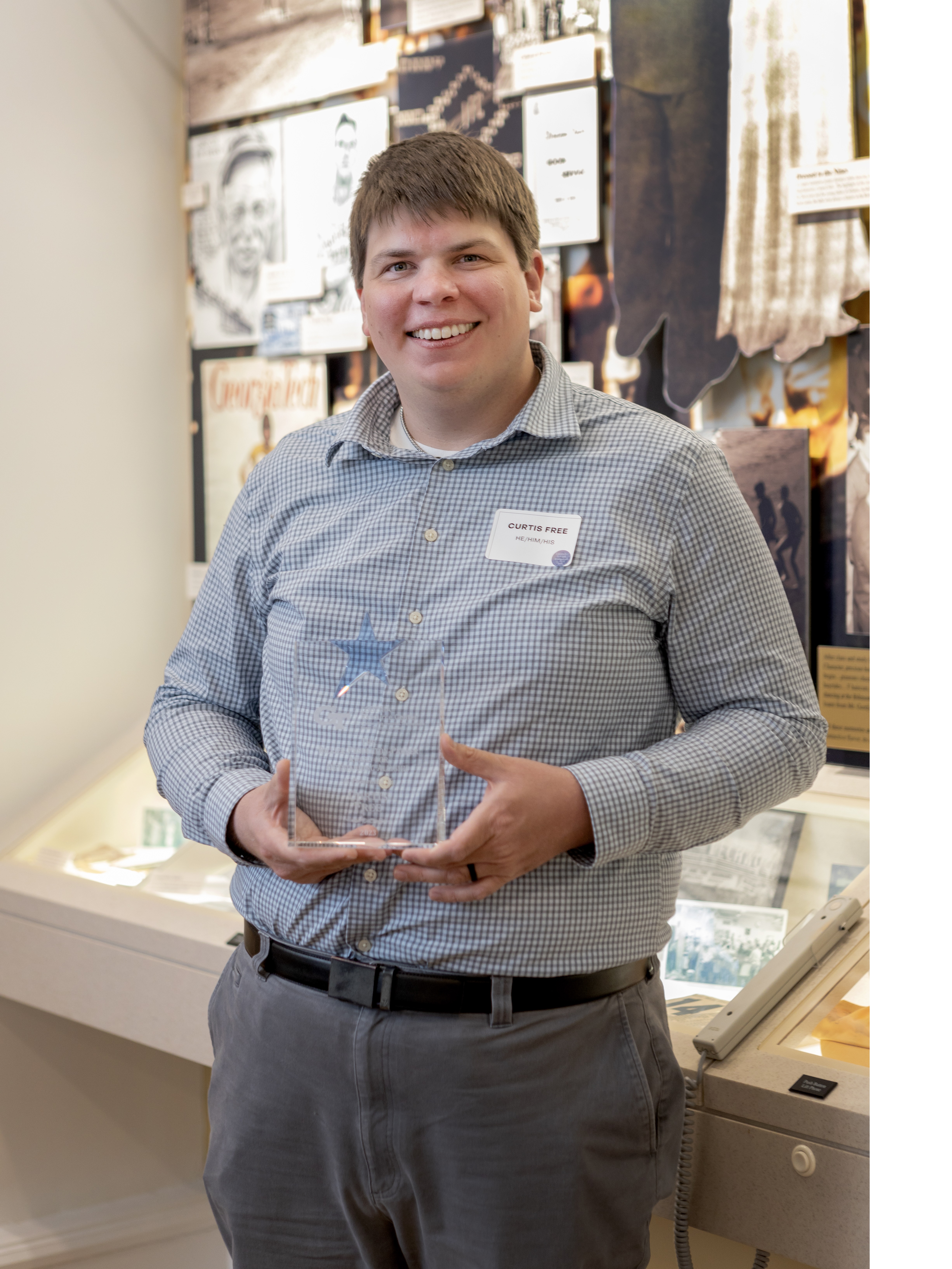 On the evening of April 12, the Georgia Institute of Technology (Georgia Tech) celebrated its ninth annual Lavender Awards. Among the award winners was Georgia Tech Research Institute (GTRI) Senior Research Scientist Curtis Free, who received the 2023 Billiee Pendleton-Parker Award for Outstanding Allyship.
"Allyship is love," said Curtis. "There are a lot of definitions for 'allyship' – formal and informal – but to me, love is a guiding principle that includes caring for everyone, both within and outside of the LGBTQIA+ community."
Winning the Billiee Pendleton-Parker Award for Outstanding Allyship
The Lavender Awards were presented in Georgia Tech's Alumni House, hosted by the leadership from the LGBTQIA Resource Center.
In addition to the awards ceremony, the Lavender Celebration, focusing on LGBTQIA students, joins other end-of-the-year Georgia Tech celebrations in recognizing students who are finishing their degree programs and have accomplished incredible feats on campus and beyond. The event also celebrates members of faculty who had completed specific training courses with the LGBTQIA Resource Center.
"I was moved to see how many Georgia Tech employees care about the LGBTQIA+ community– and, moreover, proud of all the graduating students who have found a place within the school's LGBTQIA+ community," said Curtis. "To know that Georgia Tech supports such a vibrant community makes me proud to be a Tech grad and employee."
The Billiee Pendleton-Parker Award for Outstanding Allyship honors an individual who has demonstrated courageous and compassionate allyship to lesbian, gay, bisexual, transgender, queer, and/or asexual communities at Georgia Tech throughout the past year.
Jeremy Brown, associate director of education and outreach in GTRI's Diversity, Equity, and Inclusion (DEI) Unit, nominated Curtis. He wrote: "Curtis has shown incredible leadership, support, and allyship in his role by checking in with our AFFIRMED ERG leadership team, leading various initiatives, and always advocating for the needs of the members of the ERG to the GTRI DEI Unit."
Making ERG Involvement a Priority
Curtis started at GTRI as a co-op in 2007 and has now been with our organization for almost 16 years. As a Lead Engineer and Co-PD for one of the major sponsored portfolios in CIPHER Lab's Secure Information Systems (SIS) Division, Curtis works closely with our sponsors and oversees research and development of security-focused software and cloud infrastructure projects.
"Despite the hectic nature of the work we all have to do, Curtis consistently finds ways to be an ally for his peers," said Jeremy. "He shows up fully engaged in our meetings and events, even when others don't. His willingness to assist others and his commitment to GTRI is unequaled."
Curtis is a member and chair of AFFIRMED@GTRI, our employee resource group (ERG) for members and allies of the LGBTQIA+ community.
"Everyone at GTRI is kept busy with their 'day job,' so finding time to contribute to an ERG is not always easy," explained Curtis. "But being recognized by my colleagues, and then by the LGBTQIA Resource Center, helps me know I'm making a difference."
GTRI's ERGs were forming during the pandemic. Amidst all the changes and uncertainty our community faced, these new groups bonded and collaborated on projects to make GTRI a more inclusive space.
"We started with very simple, informal meetings, but had surprisingly good attendance at our first meetups," said Curtis. "It took a while before we moved into face-to-face gatherings, but our first foray at Punch Bowl Social was a great success, and I think everyone there had a great time."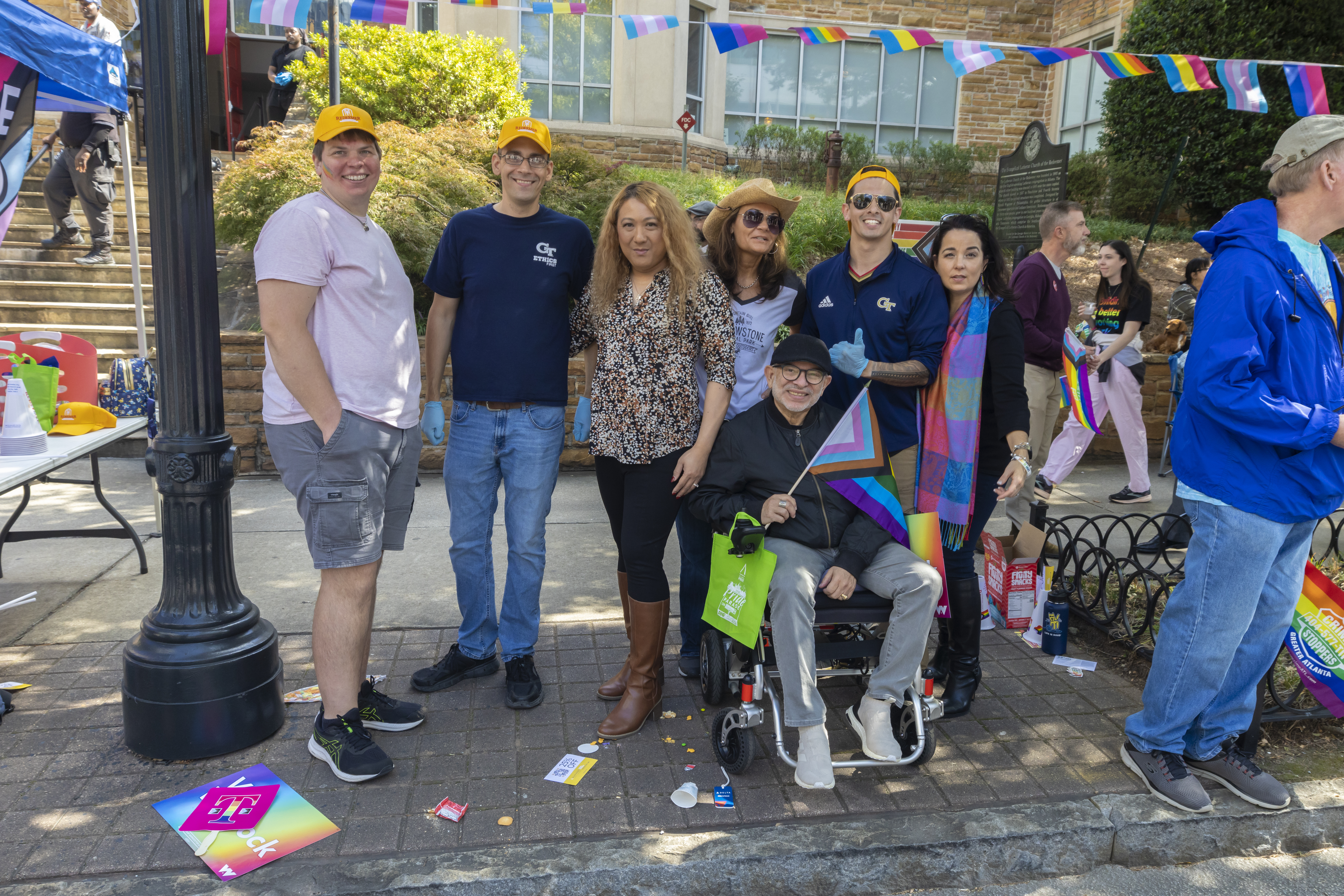 While the AFFIRMED ERG has grown and achieved great success already, there was a moment in the beginning when Curtis wasn't sure he should join the leadership team.
"My colleague served as the ERG's first Executive Sponsor when it was formed in mid-2020," began Curtis. "When I heard that she was looking for chairs, I expressed interest but also hesitation: I'm an ally; shouldn't the ERG leadership consist of individuals who are themselves part of the LGBTQIA+ community? She suggested that having an ally in AFFIRMED leadership would send a good message to other allies at GTRI. Thus, I joined AFFIRMED as one of its first chairs… and I can only hope my leadership has been an inspiration to others."
One program Curtis helped establish is called "The Sharing Hour." The virtual event allows employees to share their passions, gifts, community support, and skills relevant to the GTRI LGBTQIA+ community and allies. So far, The Sharing Hour has featured notable ERG members and individuals in senior GTRI leadership speaking about their personal experiences, interests, and engagement with allyship.
"I hope to see our ERG membership grow – but more importantly, I hope to see a wider embrace of the LGBTQIA+ community across GTRI," said Curtis. "GTRI prides itself in hiring curious individuals – and I want to see that curiosity extend into a desire to learn how we can all support one another inside and outside the workplace."

Writer: Katrina Heitz
Photographer: Christopher Moore
GTRI Communications
Georgia Tech Research Institute
Atlanta, Georgia
The Georgia Tech Research Institute (GTRI) is the nonprofit, applied research division of the Georgia Institute of Technology (Georgia Tech). Founded in 1934 as the Engineering Experiment Station, GTRI has grown to more than 2,900 employees, supporting eight laboratories in over 20 locations around the country and performing more than $800 million of problem-solving research annually for government and industry. GTRI's renowned researchers combine science, engineering, economics, policy, and technical expertise to solve complex problems for the U.S. federal government, state, and industry.