Developing 5G Solutions for the State of Georgia, Nation
Researchers at the Georgia Tech Research Institute (GTRI) are exploring ways to use 5G – a mobile technology that promises download speeds many times faster than current 4G LTE wireless networks and significantly lower latency times – to advance national security and ensure rural parts of Georgia have equitable access to high-speed broadband services, among other applications.
On the Ground 
In terms of sponsored projects, GTRI has established 5G prototypes at Hill Air Force Base in northern Utah, with funding awarded by Advanced Technology International (ATI). The project is specifically looking at using dynamic spectrum sharing, or DSS, to allow 5G networks and military radars to operate on the same spectrum band.
"Our role at Hill AFB is to look at how a 5G network can share the same spectrum as radar systems," said Grant Lohsen, a GTRI senior research engineer who is leading the project. "In other words, we're exploring how to use dynamic spectrum sharing to minimize interference introduced to a radar system from increased activity on an in-band 5G network."
5G technology currently operates on three spectrum bands: high-band, mid-band, and low-band. High-band spectrum, also known as millimeter-wave spectrum, is seen as the most desirable of the three spectrum bands since it can carry massive amounts of data at high speeds. But its shorter wavelengths means it has trouble traveling long distances and penetrating certain surfaces. By comparison, low-band spectrum can travel long distances and penetrate walls but has less bandwidth.
GTRI is also researching the concept of network slicing for tactical applications, which allows multiple independent virtual networks to operate on one logical network. Unlike earlier cellular technologies, network slicing allows quality of service configuration (including throughput, latency and security) based on the application requirements throughout the 5G network down to the physical layer. The 5G standard enables flexible mapping between the individual slices and physical layer resources (such as spectrum, time, and antenna beams), allowing for research, design and integration of commercial 5G network technologies into a secure tactical framework using open source tools.  
In a hypothetical military setting, network slicing could enable soldiers to exchange vital information while reserving higher-quality bandwidth to stream video back to a command headquarters – all while ensuring the data remains secure.  
"With network slicing, different classes of traffic – whether it's higher throughput or lower latency, classified or unclassified, etc., – can be assigned to different portions of the 5G network," said Tanah Barchichat, a GTRI senior research engineer who is leading the network slicing research. "It's a big feature we feel that the defense community can take advantage of."
Homegrown 
GTRI is also examining ways to cost effectively bring high-speed broadband networks to rural parts of Georgia, many of which have struggled to keep up with network demand as the pandemic accelerates the shift to remote work and distance learning.  
Specifically, Bill Lawton, a GTRI principal research engineer studying 5G use case applicability to help rural Georgians, said GTRI is exploring the feasibility of bringing 5G-powered fixed wireless access service to homes in rural Georgia.
"A home owner could just have a router-like device and place it in a window facing wherever the nearest cell tower is, and have high-speed broadband in their home," Lawton said. "That's an area where 5G can help increase broadband penetration to rural areas at much lower installation costs than traditional broadband services."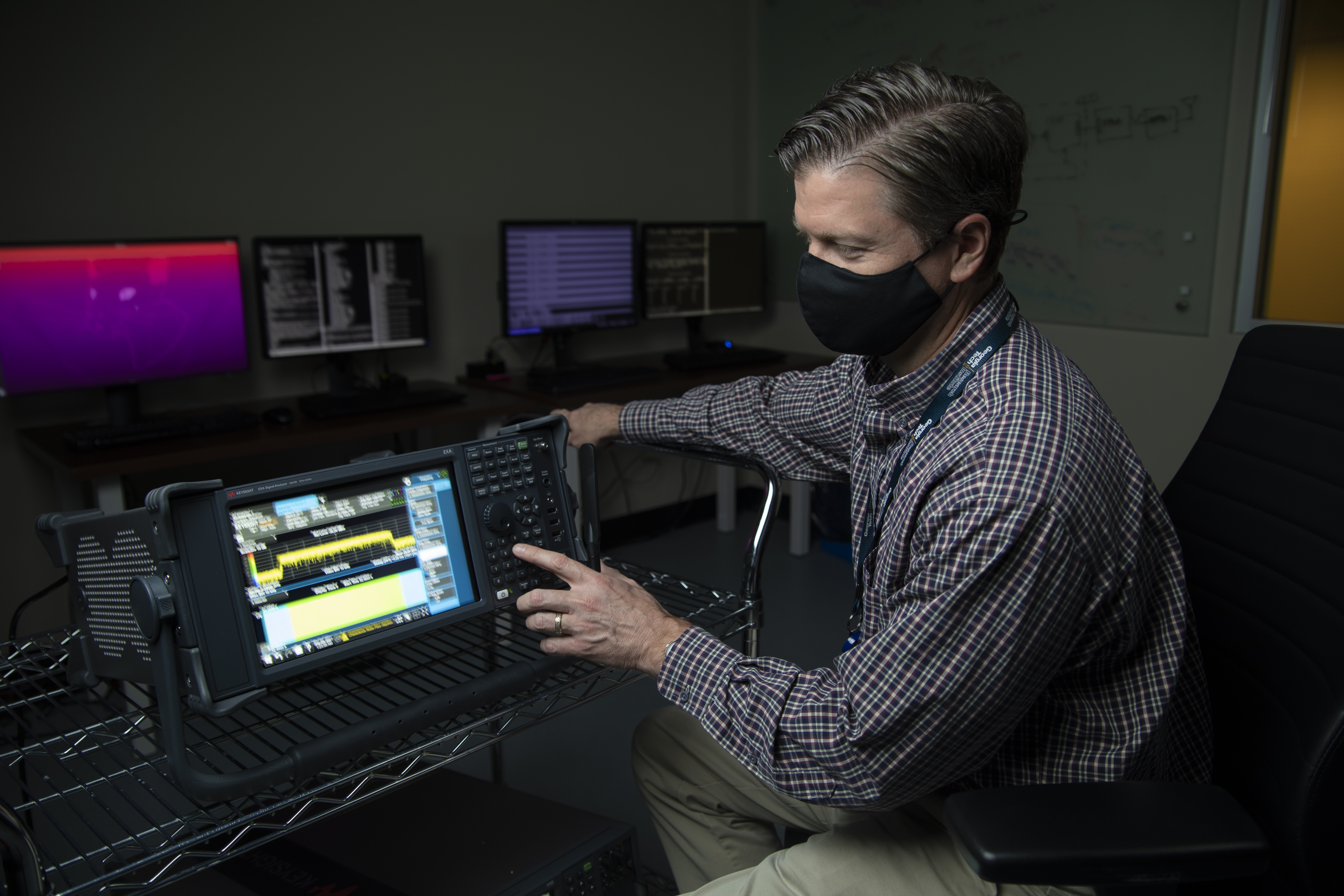 There are also opportunities to bring 5G to Georgia's agricultural communities. 5G stands to transform things like crop management, where farms could use the technology to monitor crops, allowing fertilizer or pesticide treatment of specific portions of fields instead of applying the same treatment to an entire field. Farms could also use 5G to equip farm machinery and equipment with higher compute power and more advanced data collection capabilities.
"The agriculture industry is one of many areas in Georgia that can greatly benefit from pervasive 5G technologies," Lawton said.
Problem Solving  

                               
Closer to home, right at GTRI, researchers have constructed a 5G laboratory where they are conducting over-the-air testing of 5G networks and utilizing open source 5G software to further their research.
GTRI is working to provide a standards-based, open source, 5G cellular system to the government. The goals of the project are to break vendor lock-in, provide a baseline from which mission-specific 5G cellular enhancements can be created, and evolve the system over time as technology advances.
"This will allow for implementation of the 3GPP features that may not be commercially viable but are of great interest to government customers," Lohsen said.
3GPP, or the 3rd Generation Partnership Project, is an organization consisting of seven telecommunications standards organizations that develop protocols for various cellular telecommunications technologies, including 5G.    
Lawton said the team is applying lessons learned from early 5G rollouts in the commercial space to prepare the technology for widespread use in defense settings.   
A major selling point for 5G in the commercial space has been its ability to enable a new era of the internet of things — a network of interconnected electronics, vehicles and home appliances that interact and exchange data. However, many of these applications have been seen as at least a few years away, as they rely on future releases and updates to the 5G specifications that have yet to be finalized.
"We're connecting current models of smartphones to our 5G network and analyzing how these 5G networks really perform versus what's advertised, and how we can best set up and orient these 5G networks to be able to satisfy the requirements of deploying the systems in a tactical environment," Lawton said.

Writer: Anna Akins
Photographer: Christopher Moore
GTRI Communications
Georgia Tech Research Institute
Atlanta, Georgia USA
 


The Georgia Tech Research Institute (GTRI) is the nonprofit, applied research division of the Georgia Institute of Technology (Georgia Tech). Founded in 1934 as the Engineering Experiment Station, GTRI has grown to more than 2,800 employees supporting eight laboratories in over 20 locations around the country and performing more than $700 million of problem-solving research annually for government and industry. GTRI's renowned researchers combine science, engineering, economics, policy, and technical expertise to solve complex problems for the U.S. federal government, state, and industry.
Learn more at www.gtri.gatech.edu and follow us on LinkedIn, Twitter, Facebook, and Instagram.