GTRI, Georgia Tech Launch Computer Science Pilot Program for Rural Georgia High Schools
Emerging technologies like artificial intelligence, data analytics and cybersecurity have taken the world by storm, and thanks to work being done by the Georgia Institute of Technology (Georgia Tech) and the Georgia Tech Research Institute (GTRI), they are making their way into high school curriculums in rural Georgia.       
Georgia Tech's Center for Education Integrating Science, Mathematics and Computing (CEISMC) and STEM@GTRI have launched a pilot program for rural Georgia school districts that provides high schoolers with access to interactive modules in the areas of coding, cybersecurity, artificial intelligence, sensors and data visualization. The participating school districts for the 2022-2023 academic year include Cartersville City, Chattooga County, Effingham County, Fayette County, Gordon County, Haralson County, Liberty County, and Walker County.
The initiative, called the Computer Science for Rural Georgia High Schools Pilot, launched in summer 2022 and has been supported with funding from the State of Georgia. Roughly 400 students have participated in the pilot to date and up to 600 are expected to participate in total.  
"This program is increasing the exposure of opportunities in computer science and fields in the areas of science, technology, engineering and mathematics (STEM) for a wider range of students, which is pretty exciting for us," said STEM@GTRI Director Leigh McCook.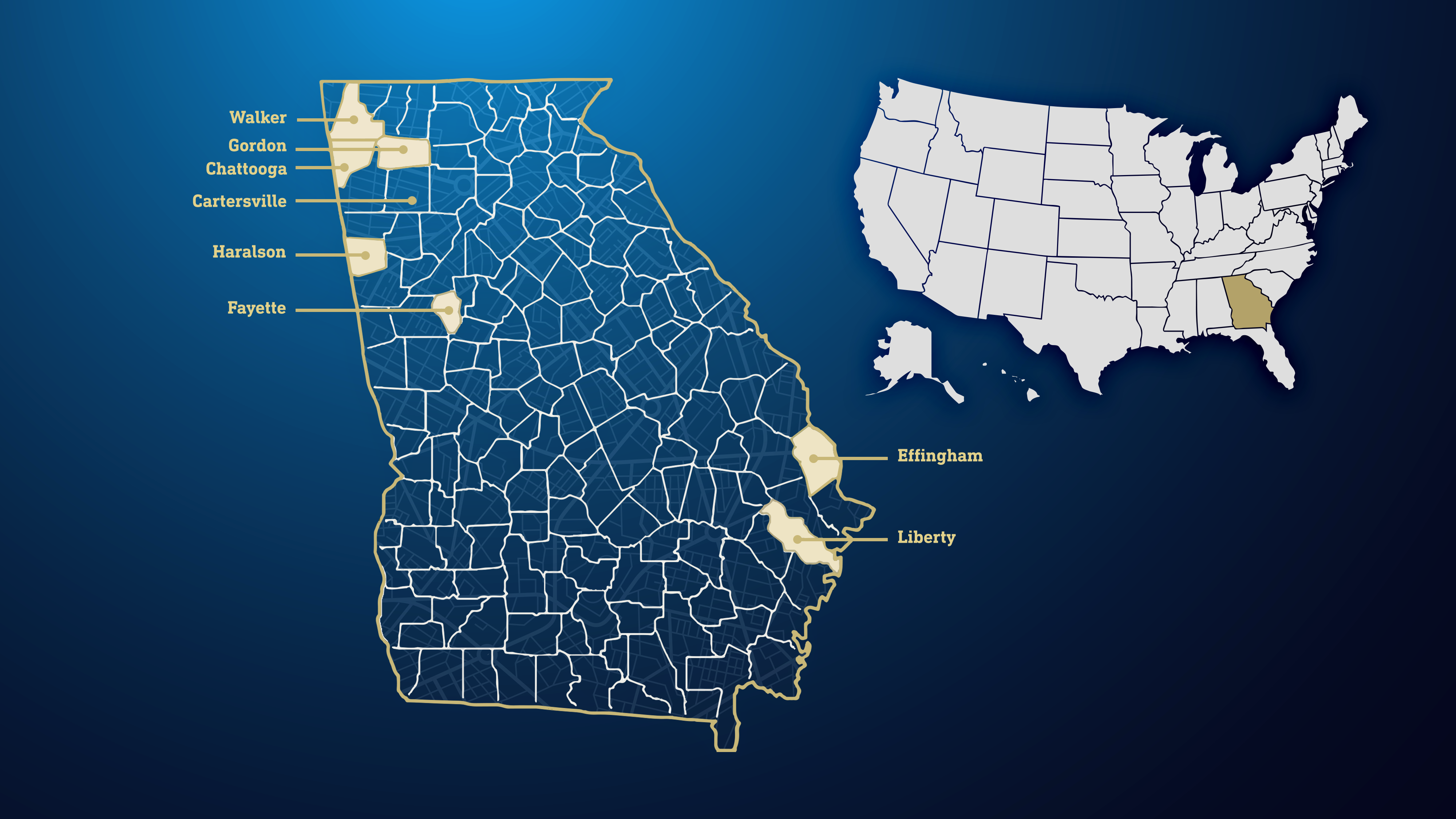 The five modules, which include introduction to coding, advanced coding, principles of cybersecurity, sensors and data visualization, and foundations of artificial intelligence, were developed based on input from the participating school districts and tap into Tech's areas of expertise. Each module is two weeks in duration and is taught virtually by a Georgia Tech faculty member in collaboration with the classroom teacher, who is in person.
For the introduction to coding class, students learned the basics of coding and then were able to develop and deploy code to the Georgia Tech Robotarium, which is a remotely accessible swarm robotics research platform that is free and open to anyone. The advanced coding class is based on EarSketch, a free educational programming environment developed at Georgia Tech that is designed to teach coding in two widely used languages, Python and JavaScript, through music composing and remixing.
The modules on cybersecurity, artificial intelligence and sensors and data visualization are aimed at addressing current workforce development needs in Georgia. 
With an economic impact of nearly $54 billion, Georgia's technology sector accounts for 6% of the state's total workforce, according to recent data from the Computing Technology Industry Association (CompTIA). Georgia's estimated net tech employment for 2021 was 281,666 workers, a gain of 4,219 net new jobs year-over-year, according to CompTIA's latest data.  
The number of software, programming, web and quality assurance (QA) occupations led the state for 2021, at 60,863. IT support specialists and repair technicians followed at 25,517; cybersecurity and systems engineers ranked third, at 24,076, per CompTIA.
After the week-long instruction concluded, students completed a project where they solved a real-life problem facing their communities with the technologies they learned about. Then, Tech faculty and students provided the teams with feedback on their projects. 
"It's a little bit like a Shark Tank environment, where the students receive professional feedback on their projects," said CEISMC Director Lizanne DeStefano, who also serves as a professor of psychology at Georgia Tech.
Participating teachers said the pilot has given their students the opportunity to make a tangible connection to many valuable computer science topics. 
"Day one was awesome!," said Stephanie A. Ratliff, a teacher at Chattooga High School. "I just can't say thank you enough to GTRI and Georgia Tech for allowing us to be a part of this pilot venture."
Gerald Nelms, a teacher at Bradwell Institute, a high school located in Liberty County, added: "My students were exposed to a wide world of possibilities that exist in computer science. We cannot wait for future collaborative efforts."  
Once the pilot concludes at the end of the current fiscal year, DeStefano and McCook said they are eager to scale the program to more districts and create a resource repository for participating districts to draw from at any time. 
"At the very minimum, we will develop this into an educational resource and continue to host it on our websites," DeStefano said. "If there is continued funding, then we would be interested in refining the five modules and offering them to a larger number of districts."
STEM@GTRI is GTRI's K-12 outreach program. Funded by the State of Georgia, the mission of STEM@GTRI is to inspire and engage Georgia educators and students by providing access to experts in STEM fields. CEISMC is a unit with Tech's Office of the Provost that serves as the primary connection point between faculty and students and the preK-12 STEM education community.
Writer: Anna Akins 
Designer: Toya Ejike 
Photo Credit: CEISMC 
GTRI Communications
Georgia Tech Research Institute
Atlanta, Georgia

The Georgia Tech Research Institute (GTRI) is the nonprofit, applied research division of the Georgia Institute of Technology (Georgia Tech). Founded in 1934 as the Engineering Experiment Station, GTRI has grown to more than 2,900 employees, supporting eight laboratories in over 20 locations around the country and performing more than $800 million of problem-solving research annually for government and industry. GTRI's renowned researchers combine science, engineering, economics, policy, and technical expertise to solve complex problems for the U.S. federal government, state, and industry.