STEM@GTRI Celebrates 25 Years of Promoting Science, Technology Education
Recently, GTRI leadership and research faculty were joined by State of Georgia leaders, corporate representatives, and educators to celebrate a notable milestone for an important GTRI program.
STEM@GTRI celebrated its 25th anniversary recently. STEM @GTRI is the Georgia Tech Research Institute's K-12 outreach program. STEM @GTRI strives to inspire, engage, and impact Georgia's students and educators through hands-on experiences, outreach, and professional learning.
STEM@GTRI customizes professional development experiences for educators, connects students and classrooms to Georgia Tech labs and researchers, and brings hands-on, fun, and relevant programming to STEM (science, technology, engineering, and math) educational outreach events across Georgia. STEM@GTRI leverages State of Georgia funding through grants and partnerships to bring additional STEM programming to K-12 students in Georgia. The program first received State of Georgia funding in 1998.
To commemorate this auspicious occasion, STEM@GTRI hosted a luncheon celebrating 25 years of K-12 STEM outreach at GTRI. During the program, an array of speakers reflected on the STEM @GTRI program over the past 25 years and its impact in Georgia and on the future of students.
STEM @GTRI's First Champion: Claudia Huff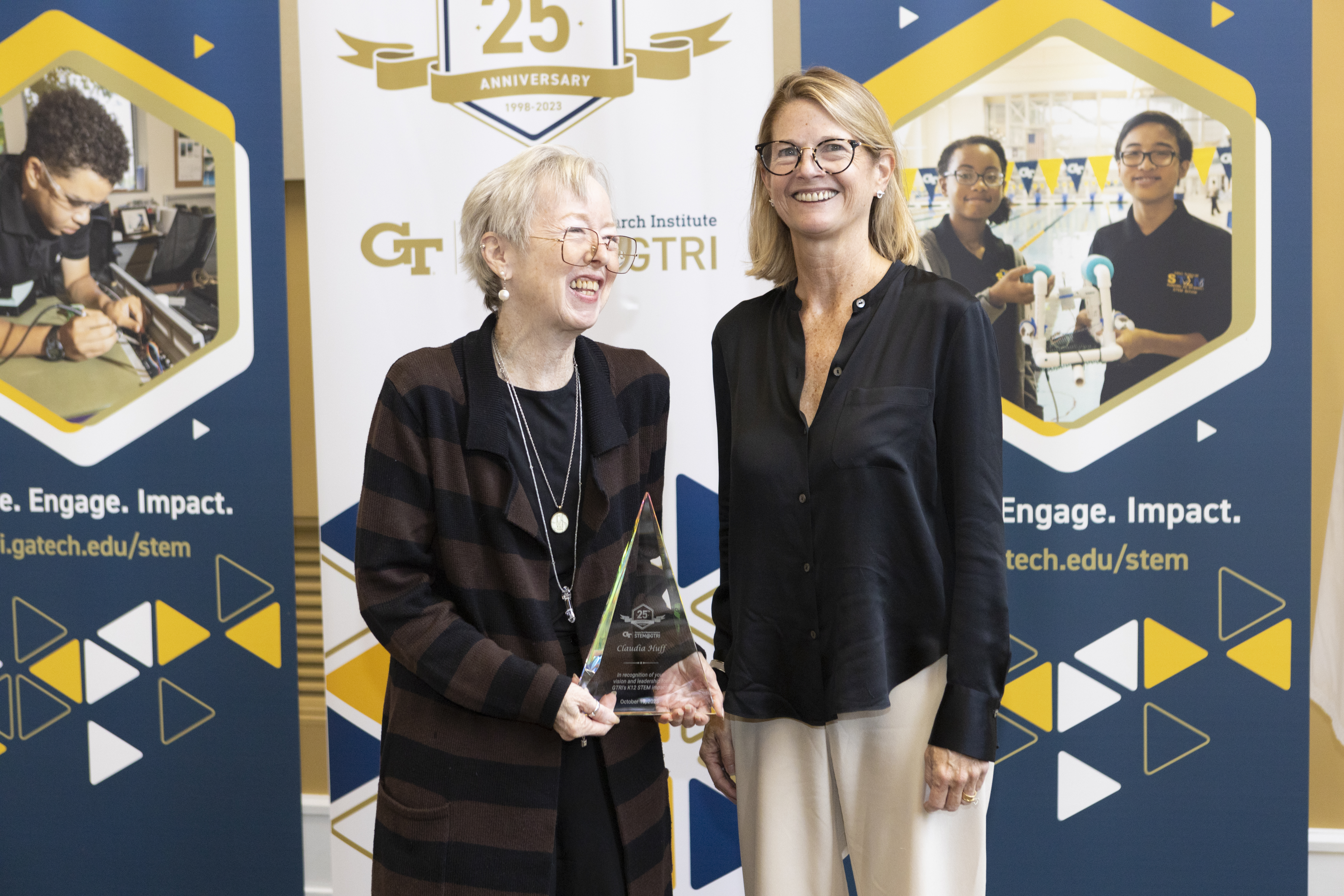 Claudia Huff, the retired GTRI Principal Research Associate who was the first Director of STEM @GTRI, spoke on its inspirational and aspirational early days. She noted that, in 1998, the U.S. was experiencing a rapid permeation of emphasis on STEM education, fueled by legislation such as the Telecommunications Act of 1996. However, while there was a desire to increase technology education, the actual means lagged.
"Computers were coming to the schools, but they weren't ready. There were computer-using educators that are scattered across the state of the country, but they were really organized together, and they hadn't seen some of the things that we could see coming down the road," she said. That was, in large part, the impetus for the program, which was then called Foundations for the Future (F3).
She embraced and pioneered the partnership-seeking approach that is now a hallmark of the renamed STEM@GTRI.
Huff started with a small amount of seed funding from GTRI. However, her dogged determination led her to secure $2 million in funding from AT&T to really get the ball rolling. The AT&T funds were leveraged into that all-important funding from the State of Georgia, which continues to the present.
"I think the biggest impact was getting everybody aware, or getting people who needed the resources aware that we have resources, letting them know," Claudia said.
The principles and practices that she put into place out of necessity became the foundation for what STEM@GTRI is 25 years later.
To honor and thank Claudia Huff, she was presented with STEM @GTRI's inaugural STEM Champion Award.
Educating Future Technology Leaders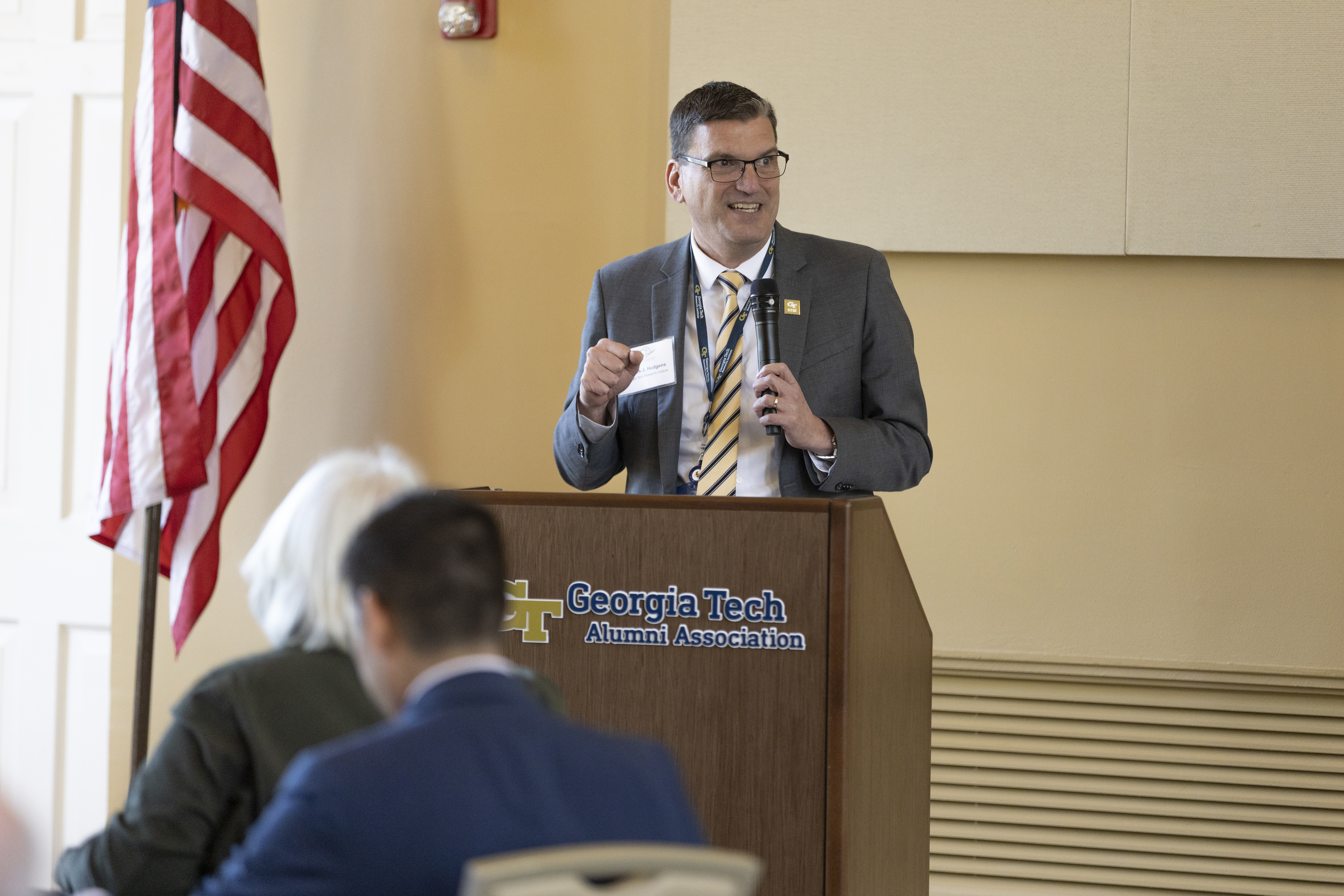 GTRI Director Jim Hudgens said that when he first arrived at GTRI four years ago, STEM @GTRI was one of the first programs he heard about: "I was just blown away by the program," he said during his opening remarks.
"Educating future technology leaders is one of our core mission areas," said Hudgens. "A big part of what we do in educating technology leaders is that we take it very seriously. Our people are extremely passionate about this--about their many volunteer hours going out to science fairs, going to high schools across the state, teaching classes in high schools--doing as much as they can.
"It's an amazing community at GTRI that makes this happen."
That passion and spirit of commitment was noted often during the 25th Anniversary luncheon.
The anniversary event was hosted by Leigh McCook, Director of STEM @GTRI, which she calls "a fun role." Her passion and commitment to STEM@GTRI was noted by speakers throughout the luncheon program.
"One of the greatest impacts I get to experience is working with our K-12 future STEM workforce. When I see a Georgia Tech/GTRI researcher explain and demonstrate their work to a classroom of elementary, middle, or high school students or experience students of all ages interact with our researchers through questions and discovery — I am thrilled to witness students have that 'ah ha!' moment and think 'This is cool stuff! I want to study to learn to be a (fill in the STEM field here),' or even 'Oh, now I know why I'm having to learn this topic in my class — someone really does use this stuff in the real world!'
"When we get to bring diversity to Georgia's classrooms across the state through our outreach, we open worlds of awareness of possibilities and opportunities for our K-12 students."
Bringing 'What If' to the Real World Through Partnerships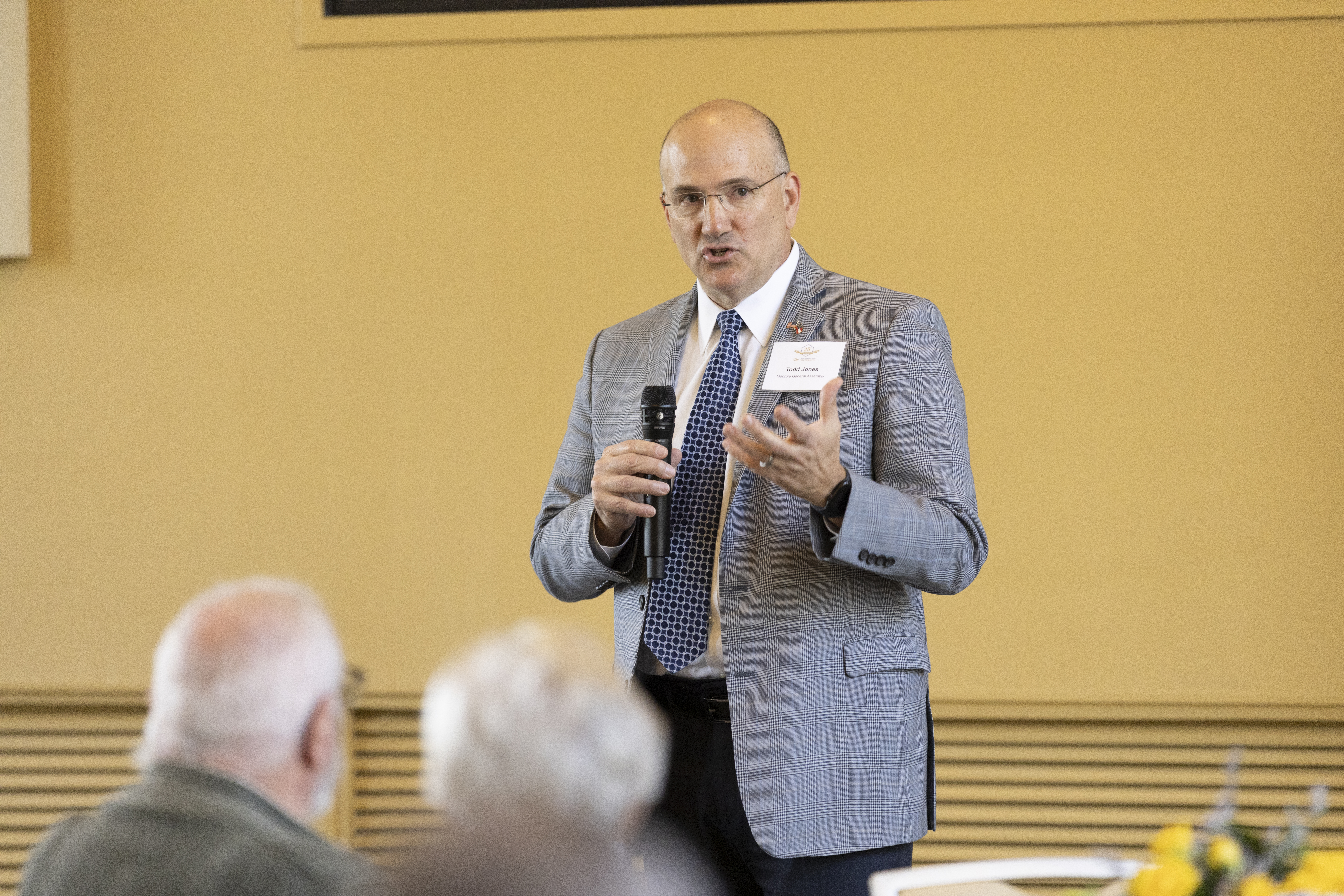 "Real-world" impact, and opening students' (and teachers') eyes and minds to possibilities were common themes reiterated by the luncheon speakers.
District 25 State Rep. Todd Jones spoke of several of his "dreams" for the State of Georgia: advancements in daily life, from improved transportation to medical advances—all "dreams" that are dependent on significant advances in technology, which Jones said he believes is incumbent on advancing technology education throughout Georgia, including in rural areas without extensive technology resources or even a large quantity of technology educators. That, he said, is where STEM @GTRI's outreach is invaluable.
Jones said that his office's ongoing partnership with GTRI is key to improving the "access and rigor" of STEM education in Georgia.
"I'm going to give all the credit to GTRI. There might have been passion coming out of my office and willingness to find a partner to make this happen, but between Bert (Reeves, Vice President, Institute Relations) and the GTRI team, that is what kind of made this a success.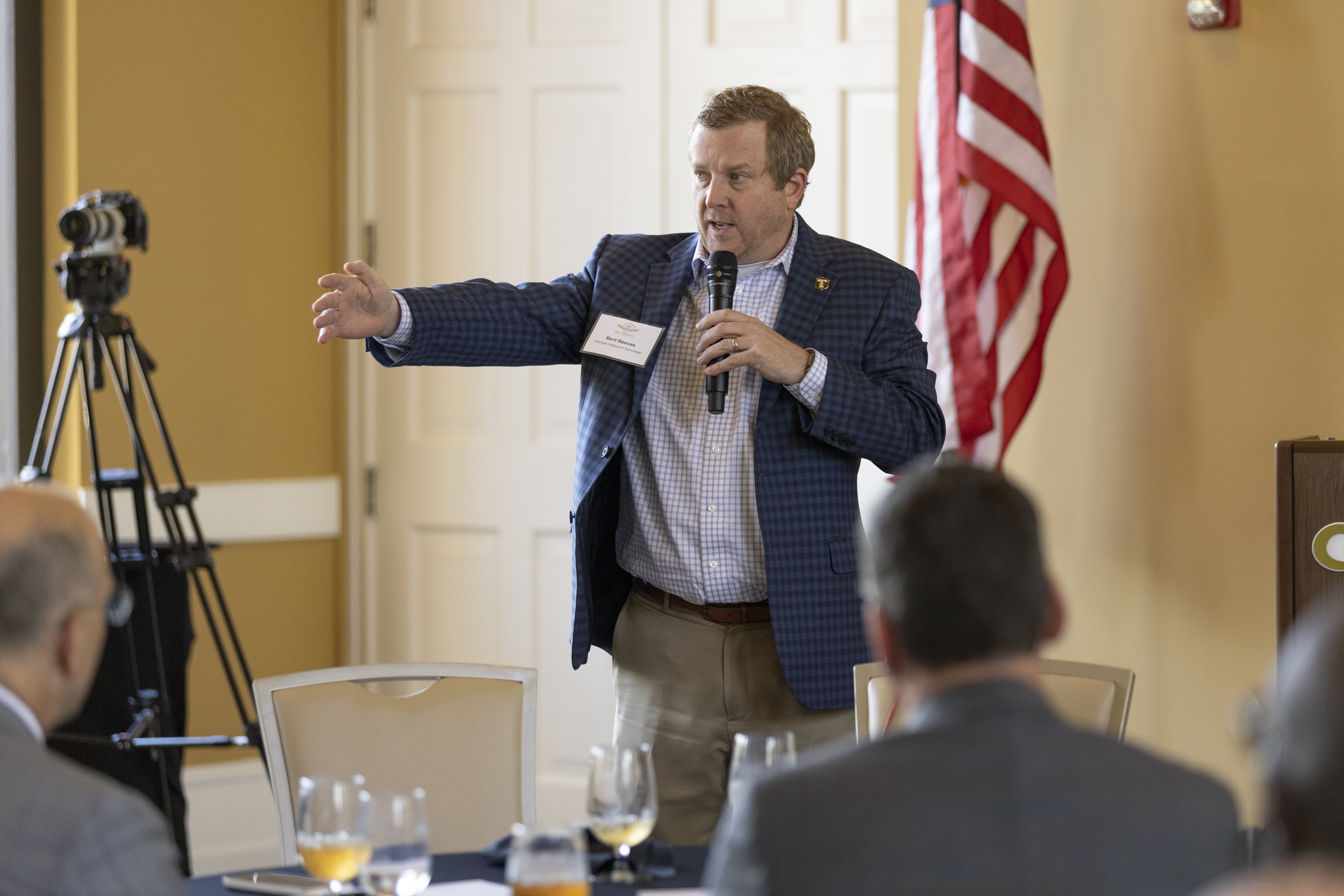 "We did know that GTRI had the resources to be able to make this work. What they had to deal with for a couple of decades around STEM, around the work, shows a passion and an application. That was what we were looking for."
McCook noted that Jones' initiative to improve access and rigor of computer science education across Georgia, as part of the newly funded Rural Computer Science Education Program, shows how committed STEM @GTRI is about fostering and furthering partners. She noted that,  in partnership with Georgia Tech's Center for Education Integrating Science, Mathematics, and Computing (CEISMC), the project is "in 16 (Georgia school) districts right now" and includes contributions from the Institute for People and Technology (IPaT), the Institute for Robotics and Intelligent Machines (IRIM), and others.
"You can't dream it if you've never been exposed to it," Jones said enthusiastically "Dreams come from 'what if,' but 'what if' can't be had unless you know what's possible and maybe what could be next."
Such a commitment to fostering a sense of making "what if" possible was reiterated by Karen Faircloth, Director of School Improvement & Professional Learning for the Northwest Georgia Regional Education Service Agency (RESA), which encompasses school districts in smaller communities such as Cartersville, Dallas, Rome, and Tallapoosa.
STEM@GTRI High School Internship Program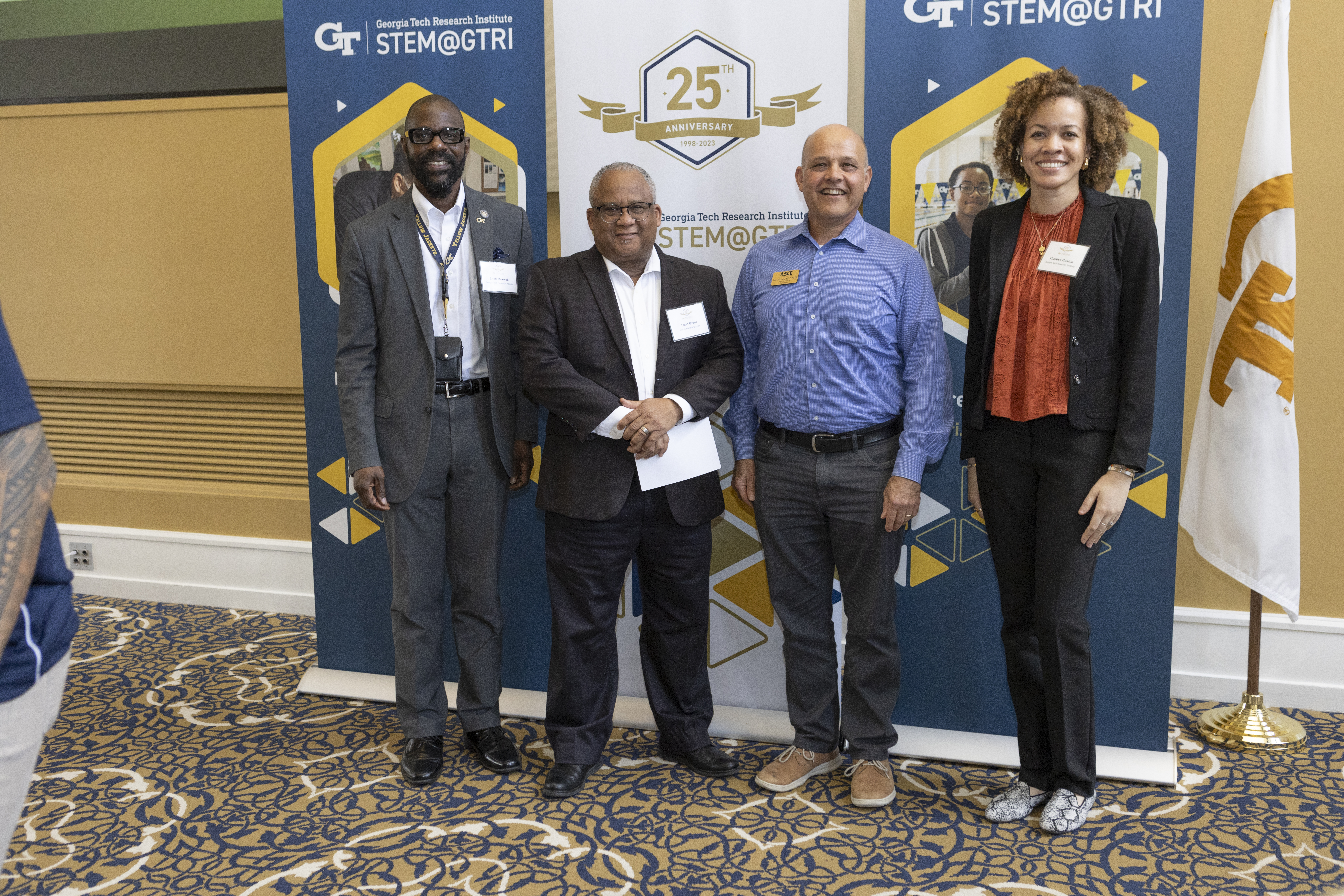 STEM@GTRI thrives today largely because of the indefatigable efforts of High School Summer Internship Program co-directors Therese Boston, a Senior Research Associate in ICL, and ATAS Principal Research Engineer Erick Maxwell. STEM@GTRI's High School Internship Program is one of its premier initiatives. In the internship program, Georgia high school students who are at least 16 years old may apply for five-week paid summer internships hosted in GTRI labs. Interns work on projects in GTRI laboratories and the GTRI Warner Robins field office with the goal of providing students with real-world experiences in science and engineering research. GTRI researchers mentor students by working with them on projects to engage them in first-hand STEM experiences.
As an example of the first-hand nature of the internship, Maxwell cited a project done by an intern team in conjunction with the 3rd Infantry Division (3ID) at Fort Stewart, Georgia. The high schoolers developed a means to streamline the arduous task of counting ammunition rounds via the use of "smart" gloves. To further emphasize the tangible benefits of the students' experience, Maxwell noted that the students are included on the project's application for a full patent on the gloves.
The High School Internship Program and other programs of STEM@GTRI make use of partnerships with GTRI's laboratories, Georgia Tech, the U.S. military, and businesses in technology-related industries.
Among the industry representatives in attendance was Patrick Govan, Higher Education Account Manager at Cisco. He explained how his company, a leader in digital communications technologies, works in outreach along with STEM@GTRI. "We are starting to work with the STEM outreach program, bringing some of the students and internships into our office--we just built a new office in the Coda building (at Tech Square). So, we're show showcasing how technology is used in everyday life and in office space to inspire the younger kids. [We show them] a day in the life of what a career would look like in the tech space.
"Leigh (McCook) and I are trying to get the [STEM@GTRI] summer internship program incorporated into office visits and things like that."
Looking ahead to future goals and activities was very much a part of the 25th-anniversary celebration. Here's to the next 25 years of STEM@GTRI!
Writer: Christopher Weems 
Photos: Christopher J. Moore
GTRI Communications
Georgia Tech Research Institute
Atlanta, Georgia

The Georgia Tech Research Institute (GTRI) is the nonprofit, applied research division of the Georgia Institute of Technology (Georgia Tech). Founded in 1934 as the Engineering Experiment Station, GTRI has grown to more than 2,900 employees, supporting eight laboratories in over 20 locations around the country and performing more than $940 million of problem-solving research annually for government and industry. GTRI's renowned researchers combine science, engineering, economics, policy, and technical expertise to solve complex problems for the U.S. federal government, state, and industry.