STEM AT GTRI - Summer Students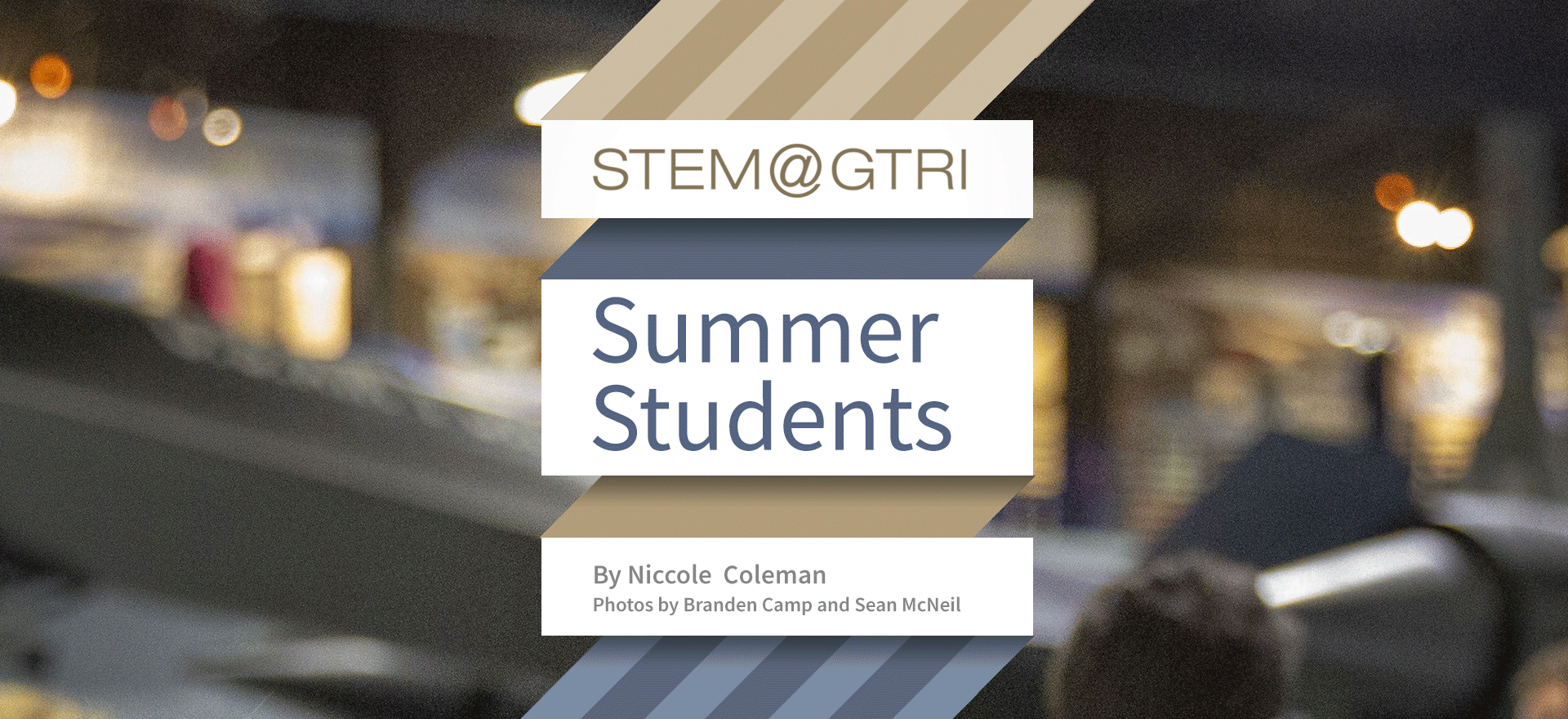 GTRI Summer Interns Leap into STEM Career with STEM Exhibit
The end of summer normally signifies the beginning of a new school year for students, but at the Georgia Tech Research Institute (GTRI), STEM@GTRI summer interns are recapping their experience as research engineers. An experience that introduced them to real world, problem-solving techniques and technology – taking their engineering interests to new heights as they enter college and hone their career path.
This summer, STEM@GTRI – a program design to inspire, engage, and impact educators and students in the fields of science, technology, engineering, and math (STEM) – invited 59 students from across the state of Georgia to intern with six GTRI laboratories and the Warner Robins field office. The summer work program at the Warner Robins office connected mentors with four students on various engineering tasks, with the program concluding with their Night Vision exhibit – the first "STEM Stop" project for the Museum of Aviation.
Jump-Starting Students' Careers
High school can be an overwhelming time, especially as students enter their junior and senior years. At every turn, students are faced with growing questions about what they want to do as they grow up and how they plan to do so. But for many rising students, the question is really where do they begin.
The STEM@GTRI summer internship program was established to introduce students to a unique career path by encouraging them to turn ideas they may scribble in the corners of notebooks into prototypes and solutions for the future, and in particular, the future of their careers. For four students interning out of the Warner Robins office, creating the innovative "STEM Stop" helped jump-start their career interest.
Recent Houston County High School graduates Ricky Patel, Andrew Babbitt, Kaylynn Wallace, and Trevor Johnson, with the guidance of their mentors and GTRI Research Engineers Hannah Gulle, Brandon Hancock, Kim Camerino, and Zach Schindler, completed the first display in a series of "STEM Stops" exhibits for the Museum of Aviation, which opened Aug. 9. The Night Vision presentation teaches visitors how thermal imaging and night vision goggles allow humans to see at night. The project, which was scheduled for completion in five weeks, encountered challenging delays in meeting the museum's deadline. But, for the graduate Ricky Patel, the delays were welcomed obstacles since he and his fellow interns were able to learn other technical aspects. 
"Our [supply] orders got complicated because of delays and we had to keep pushing our schedule back. But with the extra time we didn't work on the project, we got to do a lot of other cool stuff like making websites, making stuff for our Arduino's, 3D printing, and CSharp programming," Patel stated. Ultimately, the group had to complete the final three weeks of project work within four days to get the exhibit ready for the museum on time.
Hancock relates directly to both project delays and the value of getting a head start on a career. Hancock's experience in college is still fresh to him – a recent Mercer University graduate – as he remembers the ambiguity and uncertainty surrounding the start of a college career. At that point, students may even be unaware of what to learn and how to further explore those ideas. There's a world of possibilities for students, and the only way to understand anything is to welcome new opportunities and learn from experienced professionals.
"Any idea they've had, we've been behind it. We encouraged them to think freely and really hear each other out before moving forward," Hancock stated. The program's format encourages students to think, create, and dream big – tactics that have supported many successful projects around GTRI and that mentors have consistently reiterated to their interns.  
Mentoring with a Purpose
Career experience isn't the only benefit of the program. The GTRI Summer Program provides students with a network of mentors, some beginning their careers and others who have worked in their fields for decades. Hancock explains that many of the engineers have befriended the students, welcoming their questions and ideas.
"It's super important for them to have mentors. At any point in time, those students could give me or any other engineer a call with any questions," Hancock explains. "We're all more than willing to help and this creates a network that exposes them to a wider range of opportunities."
In his role, Hancock introduced the students to lean and agile concepts, like using Kanban boards for project planning, and open source computer software like Arduinos – used to make an RFID reader for 3D models. With new, diverse technology skills and an active mentoring network, students like Patel could envision new possibilities for the future.
"I've had many jobs before – fast food, movie theater – but this is a job I actually want to do. In other positions, I'm there just being used for my labor, but at a job like this, I'm actually being used for my brain," Patel shares. "I already have a step up that not a lot of rising college first years have had."
STEM@GTRI's presence brings new awareness to the organization and STEM-related professions. Kaylynn Wallace, another graduate of Northside High School, feels prepped and ready to take her experience to the next level in college.
"It was definitely an eye-opening experience. Not a lot of people know that GTRI is here, but because of our Partners in Education (PIE) program at school, we were able to get this opportunity. It's broadened my horizons as to what to expect and how we can take our new knowledge base further into our careers."
Mentorship in the program is an ever-revolving connection for students with hopes that those students continue the cycle by teaching and mentoring other peers interested in the same path. Principal Research Engineer Doug Nation spearheaded the program and the team of mentors at the GTRI Warner Robins office. Northside High School teacher, Cherri Nix, collaborated with the Warner Robins team to provide additional daily support, encouraging and teaching students through the real-world project difficulties. This evolving relationship with the community will continue to drive GTRI's efforts in sustaining a long-term commitment to cultivating local STEM leaders of the future.
Erick Maxwell, principal research engineer and STEM coordinator for GTRI's Electronic Systems Lab believes that "the best people for inspiring the next generation is the next generation." Maxwell, in conjunction with the Warner Robins office, established the concept of connecting high school students with high-tech work through the guidance of engineering experts. With the goal of introducing the profession prior to college entry, GTRI@STEM looks to demystify STEM careers among underrepresented populations and improve awareness, access, and opportunity in the field. In creating more internship opportunities for the next round of STEM innovators, GTRI's focus is on maintaining and inspiring future relationships with students and educators.
Funneling Talent into GTRI
GTRI's science, technology, engineering, and mathematics (STEM) initiative – STEM@GTRI – aims to inspire, engage, and impact Georgia educators and students by providing access to experts in STEM fields. Through this interaction, GTRI hopes to improve academic performance in STEM subjects, encourage students to pursue educational and career opportunities in these areas, as well as provide materials for teachers to strengthen their STEM-related curriculum.
As of last year, 69 percent of STEM@GTRI Rapid-Engineering Design Process program graduates are attending or indicate that they plan to attend Georgia Tech. Through the STEM@GTRI program, the Institute has an opportunity to maintain contact and a presence with rising talented and motivated STEM students. GTRI is currently the largest employer of Georgia Tech students with 595 graduate and undergraduate students contributing to major projects during the 2017 fiscal year.
GTRI Division Chief and Director of STEM Outreach Leigh McCook continues to encourage constant communication and relationships with not only students but also with schools around Georgia. "In conjunction with the Technology Association of Georgia (TAG), STEM@GTRI is always looking to partner with schools, K-12, to enrich both students' and educators' skills in STEM programs. Our mission is to share GTRI expertise and contribute to real experiences that make a difference. We want to play a vital role in molding STEM leaders of the future."
There are always going to be more problems for GTRI to solve. As the world progresses, training new leaders and innovators to carry us into the future is vital. To learn more about the STEM@GTRI program and how to get involved, visit stem.gtri.gatech.edu.